ORDER MATERIALS
Ariel's Way songs - $20 for CD
Ariel's Way script - $30 for single copy in 3-ring binder
Ariel's Way script and songs - $40 (CD and 3-ring binder)
Ariel's Way Production Package - $1,500
This five-disc set includes the full-production DVD plus a second DVD (for directors and choreographers) that shows a wide-view only. Also included (in digital form) are the script and script extras (descriptions of the characters, plot synopis, etc.), set and costume designs, and all the graphics and photos developed for the professional premiere. In addition to the Selected Songs CD (16 tracks), the Production Package also includes full-band rehearsal tracks for every song in the show (21 tracks), fully-realized incidental music (7 tracks), sound effects (22 tracks), hand drum instructional parts (11 tracks), and a score consisting of 28 pdf lead sheet files.
All orders shipped within one week by First Class mail. All prices include postage.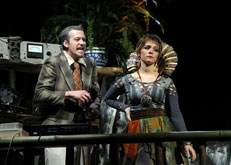 Ariel's Way is Shakespeare for the 21st Century. Its music is pure joy to experience, and its message can start young people and adults alike down that long road to world peace. This is a play whose time has come--but be warned: Forgiveness is not for the faint of heart!

Bil & Cher Holton
Spiritual Directors,
Unity Spiritual Life Center
Durham, NC