CHARACTERS
"The Islanders"
VICTOR - Musical genius, exiled to The Island by his evil sister. Father of Miranda, stepfather of Carib. He thinks he wants revenge, but he really needs to learn to forgive, and to stop controlling others. (Victor is like Prospero in The Tempest.)
ARIEL - Victor's partner in magic. She's ready today to be "on her way," but before she leaves The Island she helps Victor learn what he so needs to know. (Ariel is like Ariel in The Tempest.)
MIRANDA - Victor's darling daughter, and a gifted performer who dreams of a Broadway career. Her blossoming love for Freddy, and her rejection of Victor's plot for revenge, lead her to take life into her own hands. (Miranda is like Miranda in The Tempest.)
CARIB - His destiny is to give The Island its voice. But first he has to take it back from Victor. (Carib is like Caliban in The Tempest.)
THE DIVAS - Ariel's "posse." Spirits of The Island and agents of magic who perform as a chorus of dancers and singers. (The Divas are like the fairies in A Midsummer Night's Dream.)
"The Producers"
TONI - Victor's evil sister. She stole his music business years ago, and now she's spinning another self-serving plot. (Toni is like Antonio in The Tempest.)
AL - Head of "Mega Records." Thinking he's lost his son, Freddy, shows him that love is worth more than money. (Al is like Alonso in The Tempest.)
SEBASTIAN - Al's spineless brother and Toni's newest pawn. (Sebastian is like Sebastian in The Tempest.)
GRACE - A ditzy accountant with a heart of gold. She has a crush on Victor, but does he care about love? (Grace is like Gonzalo in The Tempest.)
"Freddy and The Fathoms"
FREDDY - Al's rock star son. Leader of "The Fathoms." Victor's plot brings him to The Island, but Ariel's magic leads Freddy to Miranda-and it's love at first sight. (Freddy is like Ferdinand in The Tempest.)
STEVO - The Fathom who would be king, Stevo gets drunk and plots with Carib to wrest The Island from Victor's control. (Stevo is like Stephano in The Tempest.)
TINA - The fun-loving Fathom who finds much to admire in the Tarzan-like Carib. (Tina is like Trinculo in The Tempest.)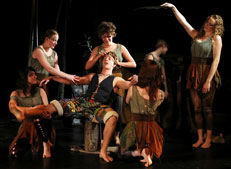 The Tempest has focused the imaginations of creative artists as diverse as Mendelssohn, Auden, Adrienne Rich, Peter Fonda, and Leslie Nielsen. Jim Henderson's entertaining treatment of the text foregrounds the role of Ariel, offers an intriguing explanation of the vengeful father's change of heart, and serves up famously familiar characters in new contexts, pleasingly garnished with songs that are both memorable and masterful.

Adam Sobsey
Playwright and critic